We look at Nordic M&A deals announced during the first half of 2021. Our focus is on majority deals with targets domiciled in the Nordics. Small unpublished deals fall outside the scope of this review.  
The number of deals in the Nordics saw a sizeable reduction after the highs in 2017 and 2018 with a multiyear bottom during the start of the Covid-19 pandemic. Deal volumes, as well as values, have resurged and 2021 looks like an excellent year for dealmaking. Cumulative deal value increased by 360% from €7.3 billion to €33.6 billion, a new record that surpassed the previous peak of €25 billion in 2018 (+€8.7 billion, +35%). 
Strong momentum has continued in H2 2021 as 526 (+21%) deals have been announced with a couple of weeks of the year still left. H2 2021 deal value at €33.6 billion is behind last year's record levels (- €16.1 billion, -29%). Independent of how the remainder of the year progresses, cumulative deal volume is back on track towards pre-pandemic levels while deal value has already exceeded previous highs. More on H2 developments in our next half-year review coming out in Q1 2022 as deal databases are updated.   
Nordic H1 deal values and volumes (Zephyr, Bureau van Dijk)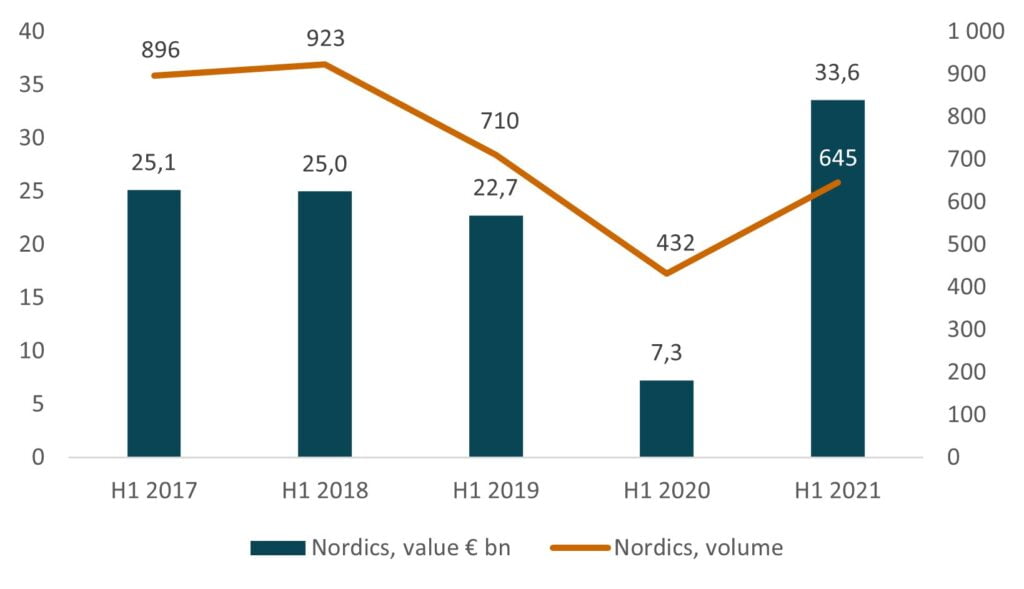 Nordic H2 deal values and volumes (Zephyr, Bureau van Dijk)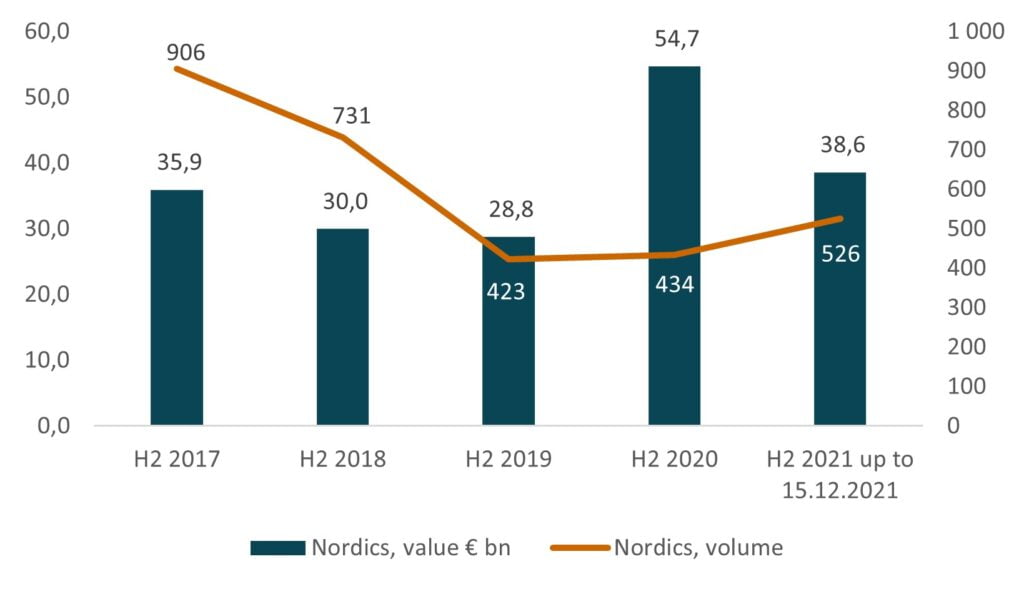 Deal volume recovering towards pre-pandemic levels 
In the first half of 2021, Nordic deal volume increased by 49% to 645 (+213). Despite a sizeable increase, deal volume was still well behind the 923 deals made in 2018.  
Deal volumes in Finland and the rest of the Nordics (Zephyr, Bureau van Dijk)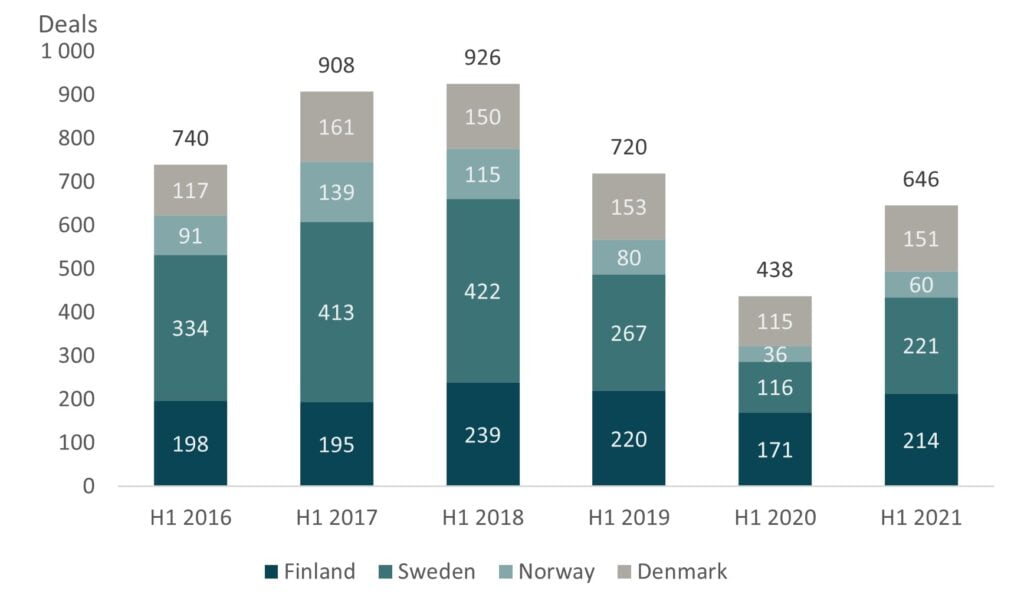 Finland and Denmark have had relatively stable deal volumes over the past few years whilst Norway and Sweden have exhibited much higher variations in volume.  
Stable deal flow has allowed Finland and Denmark to grow their volume shares. Finland's share of deal volume has grown from 27% (198 deals) in H1 2016 to 33% (214 deals) this year. Despite the growth, Finland's deal volume is 25 deals below (-10%) peak volumes seen in H1 2018. Similarly, Denmark's share has increased from 16% (117) in H1 2016 to 23% (151) this year. In contrast to Finland, Denmark's deal volume exceeded the 2018 peak by one deal.  
Meanwhile, both Norway and Sweden lost volume share as dealmaking fell significantly from the peaks seen in 2018. Both countries experienced their largest volume reduction from H1 2018 to H1 2020 when volumes fell by -79 (-69%) and -306 (-73%) deals for Norway and Sweden respectively. Norway saw a recovery in H1 2021 as 60 deals were announced (+67%). Sweden also recovered well as volume increased by 105 to 221 deals (+91%) in H1 2021. 
Deal value hits record level 
While deal volumes have increased, so have values, albeit at a slightly different pace. Readers should recognize that deal values are not published as often for smaller deals as they are for large deals. As such, deal value statistics are more volatile as aggregate deal values consistently lack purchase price data from smaller deals that would smooth the overall variation between different years. 
From H1 2016 to H1 2020, the total deal value collapsed by €21.7 billion (-75%).  For H1 2021, the total deal value was €33.6 bln (+€26.3 billion, +360%), which is a new high and a result of multiple big deals happening at the same time. Some of the increase might also come from large deals being postponed at the start of the pandemic and lockdowns.  
 Deal values in the Nordics (Zephyr, Bureau van Dijk)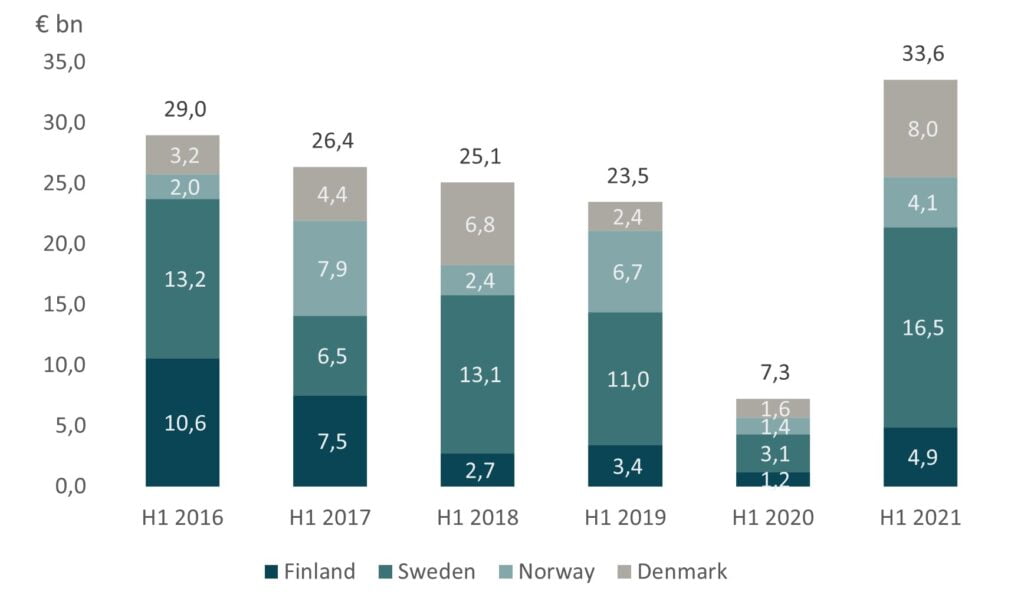 Sweden continues to capture the most value with €16.5 billion, a 49% share. Denmark captured the second-largest share of the market, 24%, with €8 billion. Finland and Norway captured 15% (€4.9 bn) and 12% (€4.1 bn) shares, correspondingly. 
Despite fluctuations in deal volumes and values, all countries have seen increases relative to H1 2020.  
Changes in deal volumes and deal values between H1 2020 and H1 2021  
30 largest deals with targets in the Nordics: the impact of large deals on cumulative deal value (Zephyr, Bureau van Dijk)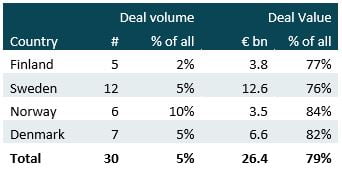 Most of the value is explained by a small percentage of transactions. 
Top 30 deals with Nordic targets in H1 2021 (Zephyr, Bureau van Dijk)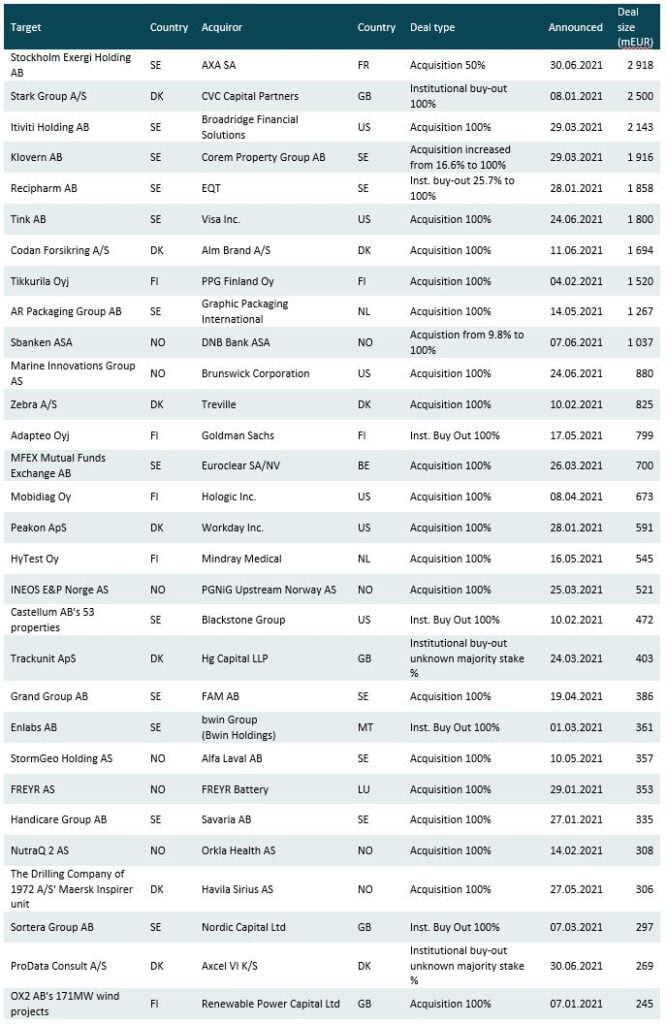 5 largest deal targets per country 
Finland 
Finland's largest deal was PPG Industries' acquisition of Tikkurila, a paint and surface protection manufacturer, in a deal valued at €1.5 billion. The deal saw PPG Industries and AkzoNobel go head-to-head in a bidding war that ended with a 126% bid premium relative to pre-tender offer market value.  
The second-largest deal saw Goldman Sachs managed West Street Global Infrastructure Partners acquire Adapteo, a modular building rental services company, for €800 million. 
Healthcare had two noteworthy deals as Mobidiag, a molecular diagnostics equipment manufacturer, and HyTest, an in-vitro diagnostics company, were bought for €674 and €545 million respectively. Mobidiag was acquired by Hologic, a US-based diagnostic and medical imaging solutions provider. HyTest was acquired by China-based Mindray Medical International's Dutch subsidiary.  
The energy sector also saw assets change hands as the listed Swedish wind farm operator OX2 sold a 171 MW wind farm in Finland to Renewable Power Capital in a deal valued at €245 million.  
Sweden 
The largest deal in Sweden was announced on the last day of June 2021, as the listed Finnish energy company Fortum sold its 50% stake in Stockholm Exergi, Stockholm's energy company, to a consortium of infrastructure investors lead by the French financial conglomerate AXA for €2.9 billion. 
Sweden's fintech sector was highlighted by another large deal as US-based Broadridge Financial Solutions acquired Itiviti, a financial market technology service provider offering scalable solutions, for €2.1 billion. In addition, Visa acquired Tink, a customizable financial management platform, for a consideration of €1.8 billion. 
Corem Property Group's acquisition of the remaining shares in Klövern for €1.9 billion created a leading Nordic commercial real estate company with a focus on growth centers.  
The Nordic healthcare sector had another large deal as EQT through Roar BidCo bought the remaining shares in the contract development manufacturing organization Recipharm Ab in a deal valued at €1.9 billion.  
Norway 
Norway's largest deal for H1, Sbanken's sale to DNB Bank for €1 billion, has had a few speed bumps as the Norwegian Competitive Authority has not yet granted regulatory approval for the deal. Thus, the deal might still fall through.  
The second-largest deal was the €880 million acquisition of Navico, a global leader in marine electronics, by Brunswick Corporation from private equity investors Goldman Sachs Asset Management and Altor.  
The Norwegian energy sector saw British energy company INEOS Energy sell its Norwegian oil and gas interests to the Polish oil and gas conglomerate's subsidiary PGNiG Upstream Norway AS for €521 million.  
Alfa Laval's acquisition of StormGeo, a global leader in weather intelligence and advanced data solutions, supported the company's ongoing strategy to increase the marine industry's operating efficiency. StormGeo was acquired for €360 million from EQT, DNV, and employees. 
The fifth-largest deal in Norway was an interesting one where Freyr, a battery manufacturer, was listed on the NYSE via a merger with Alussa Energy Acquisition Corp., which was renamed to Freyr Battery upon completion. The deal was valued at €353 million. 
Denmark 
The largest deal in Denmark was the acquisition of Stark Group, one of Northern Europe's largest building material retailers and distributors, by CVC Capital Partners for €2.5 billion. The deal saw Stark Group transfer ownership between private equity (PE) firms as it was previously owned by the US-based Lone Star Funds.  
Alm Brand acquired Codan Forsikring, the fourth-largest non-life insurance company in Denmark, from Intact Financial Corporation and Tryg for €1.7 billion. The acquisition created the second largest non-life insurance company in Denmark with an expectation for significant cost synergies.  
The third position is occupied by another PE-to-PE deal as Zebra A/S, a Danish operator of Tiger variety stores, was sold by EQT to Treville for a consideration of €825 million. Treville is a relatively new entrant to the market as it was established in 2016 by private equity investor Axcel's former partners. 
The acquisition of employee success platform Peakon by Workday, a provider of enterprise cloud applications for finance and human resources, seeks to generate synergies that will allow Workday to create competitive advantages through employee engagement and human capital management data insights. The deal was valued at €591 million. 
HgCapital's acquisition of Trackunit, a SaaS-based IoT solution and machine insights provider for the construction equipment industry, is another sign of private equity investors' demand for information and data-based businesses that have the potential for scalability. The deal was valued at €403 million, a 20x EV-to-revenue multiple.  
Industry sector development from H1 2020 to H1 2021 – Nordic target 
The three years up to 2021 saw H1 volumes go down year-on-year as volume dropped from 923 to 645. As a result, there were very few sectors with consistent growth rates. On the other hand, there were more sectors with deal volume growth relative to 2020 when dealmaking hit rock bottom.  
One consistent growth sector is the manufacture of pharmaceutical products, which saw two major transactions take place with EQT executing an institutional buy out of Recipharm and Mindray Medical acquiring Hytest. 
The largest growth sectors from H1 2020 to H1 2021 were: 
Information service activities (+48 deals)

 
Computer programming, consultancy, and related activities (+22 deals)

 
Specialized construction (+19 deals)

 
Architectural and engineering activities (+13 deals)

 
Wholesale and retail trade and repair of motor vehicles and motorcycles & financial service activities, except insurance and pension funding (+10 deals each)

 
The largest sector reductions from H1 2020 to H1 20210 were: 
Human health activities (-6 deals)

 
Food and beverage service activities (-5 deals)

 
Programming and broadcasting activities (-4 deals)

 
Fishing and aquaculture, retail trade (except for motor vehicles and motorcycles), water transport, and advertising and market research (-3 deals each)

 
 Nordic M&A sectors with volume growth over time (Zephyr, Bureau van Dijk)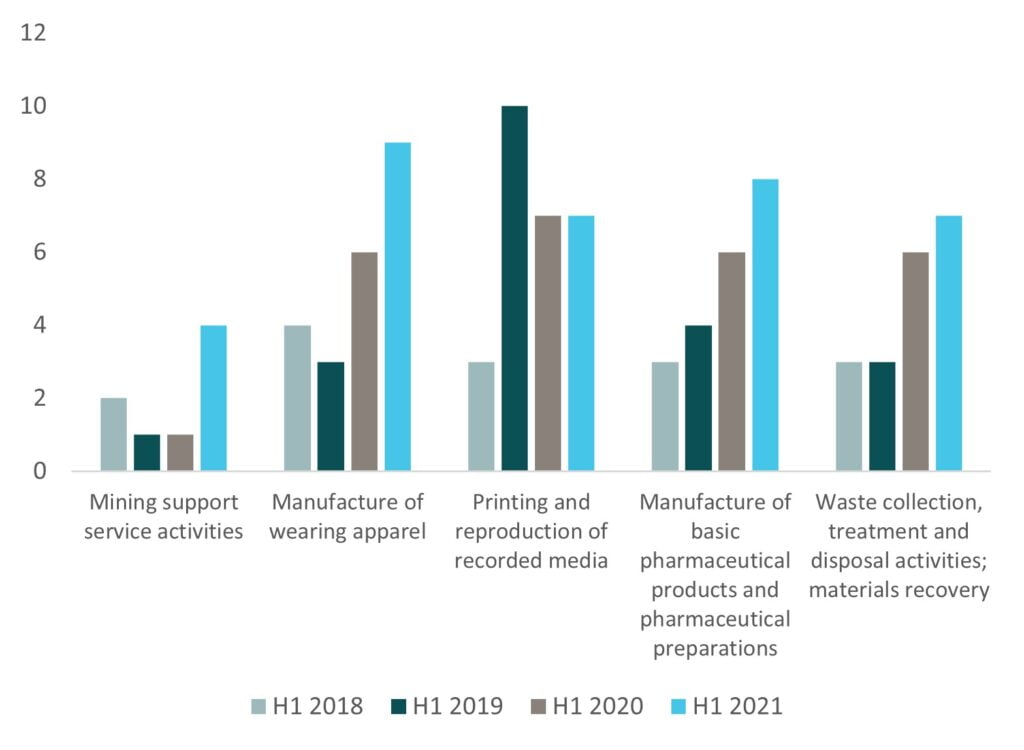 Nordic M&A sectors with volume growth in H1 2021 (Zephyr, Bureau van Dijk)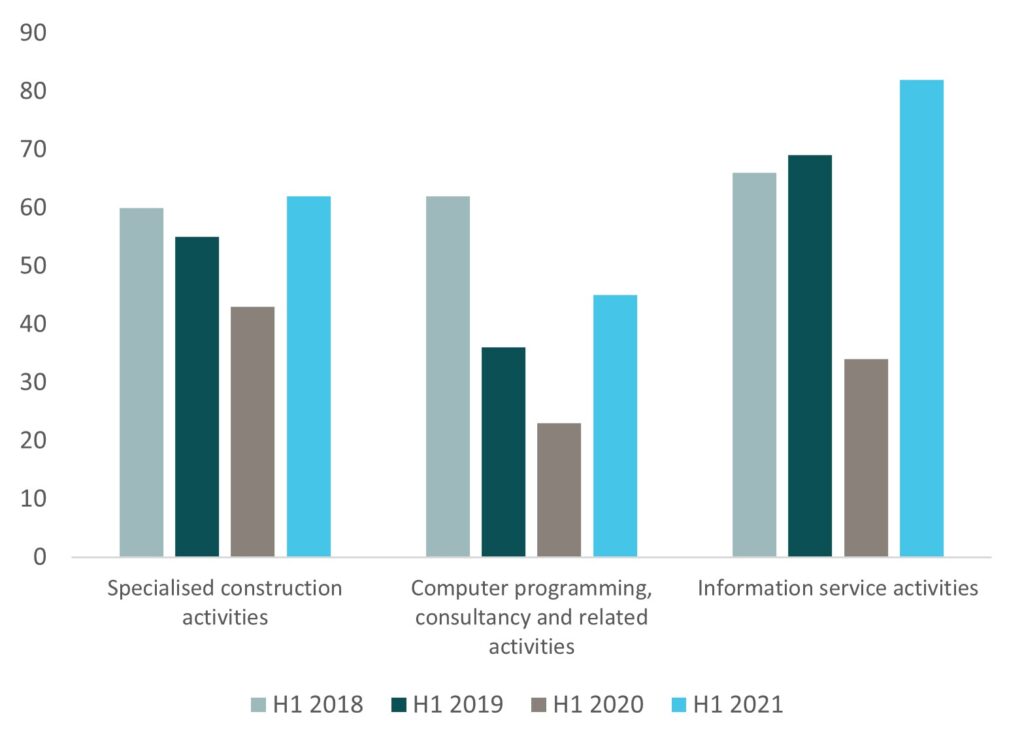 Nordic M&A sectors with volume growth in H1 2021 (Zephyr, Bureau van Dijk)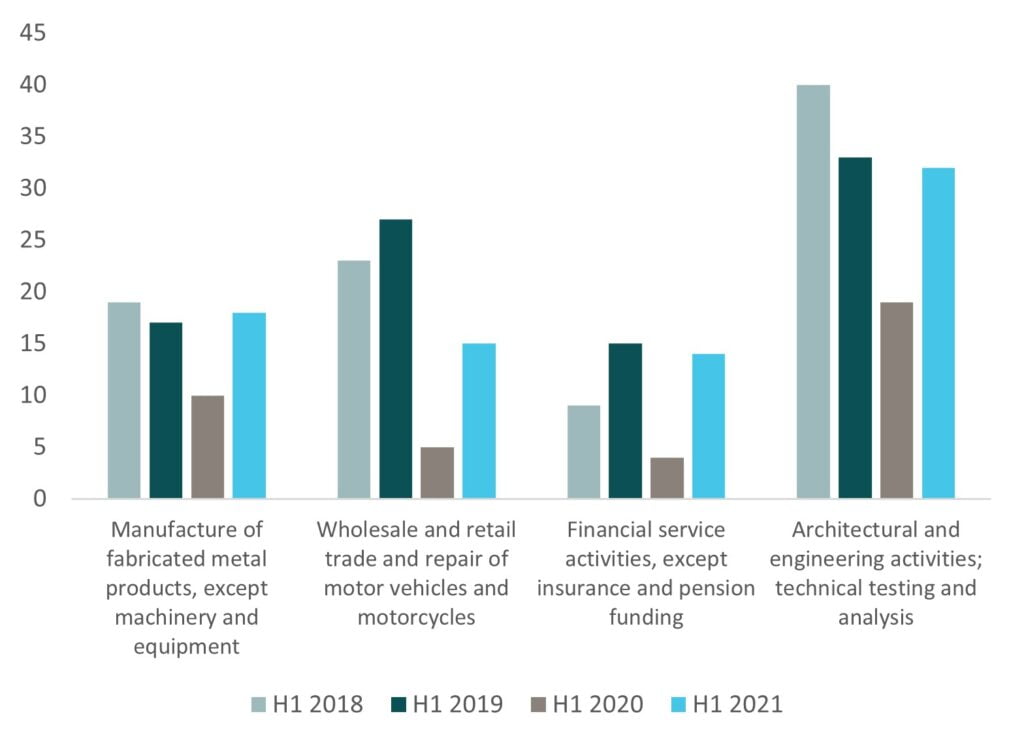 Nordic M&A sectors with volume reductions in H1 2021 (Zephyr, Bureau van Dijk)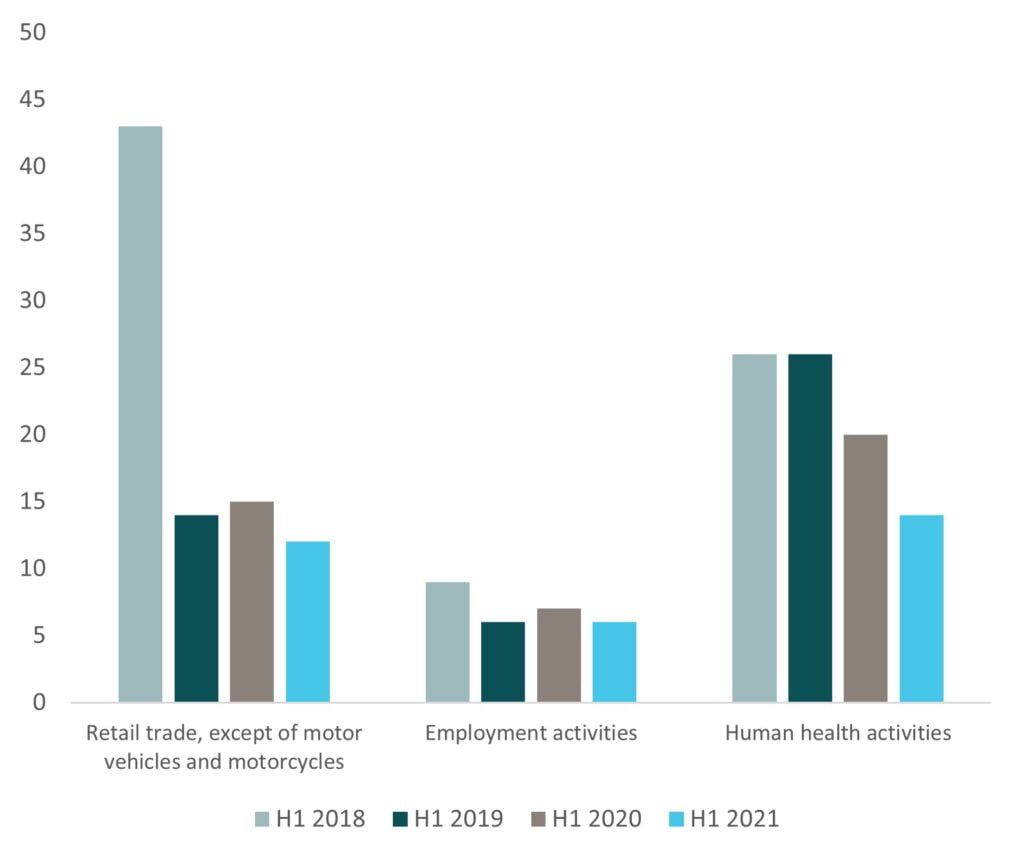 Nordic M&A sectors with volume reductions in H1 2021 (Zephyr, Bureau van Dijk)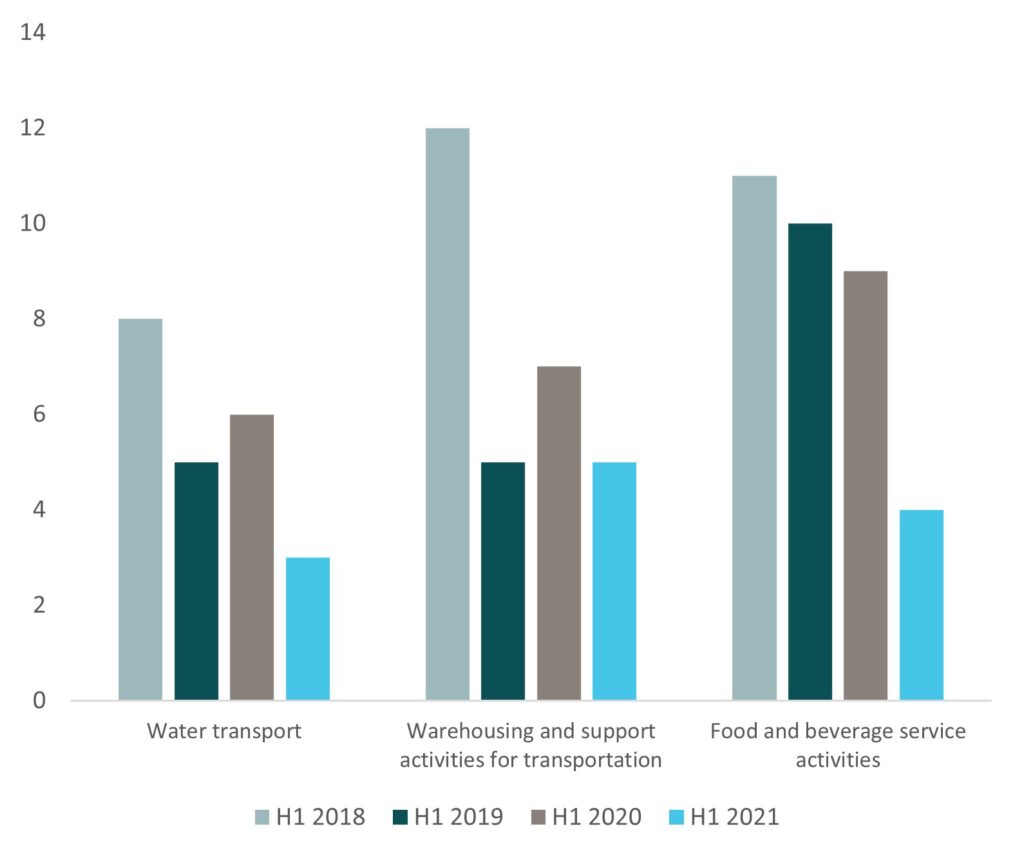 Nordic M&A sectors with volume reductions in H1 2021 (Zephyr, Bureau van Dijk)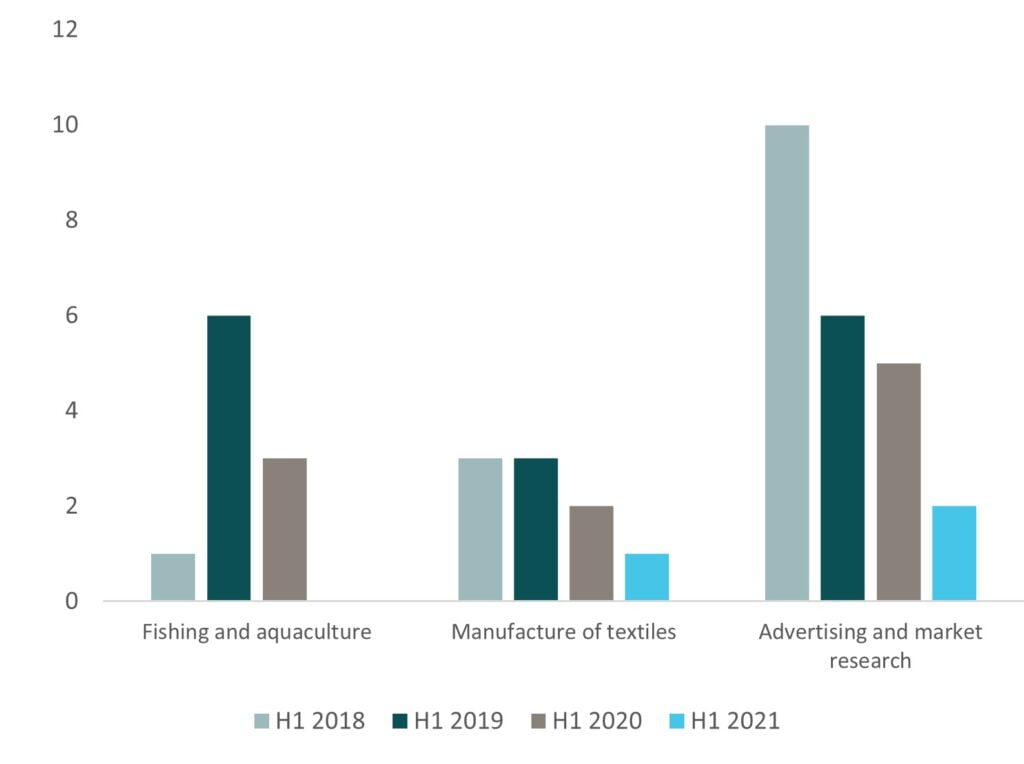 Nordic buy-side made a strong comeback with record deal values  
M&A deal volume where acquiror is domiciled in the Nordics (Zephyr, Bureau van Dijk)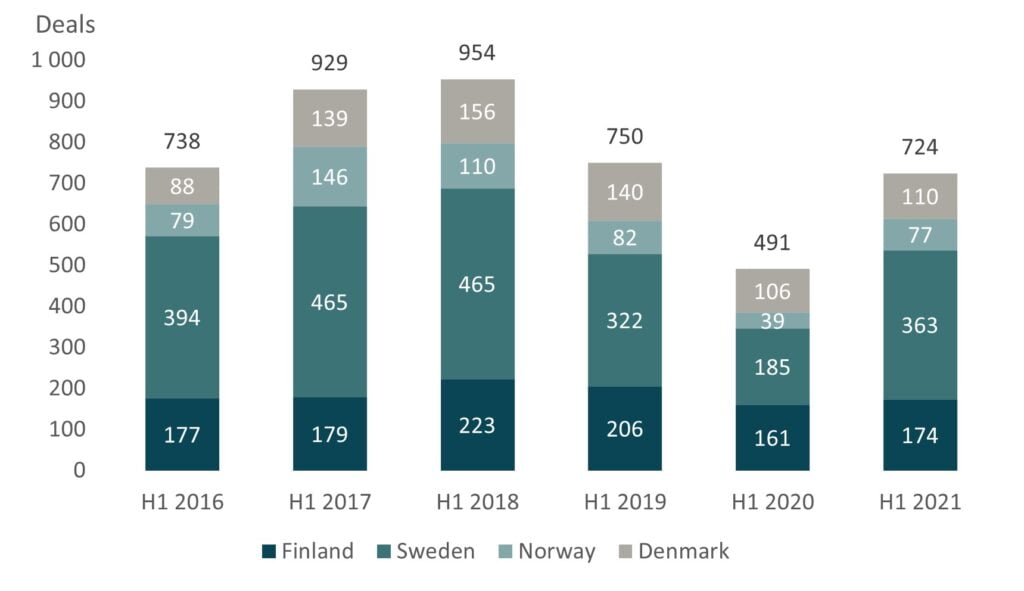 The number of acquisitions by Nordic companies in H1 2021 increased by 49% to 724 (+233) compared to the previous year. Finnish and Danish companies' acquisition activity changed slightly with deal volume increases of 13 (+8%) and 4 (+4%). Announced acquisitions by Norway and Sweden-based companies rose by 38 (+97%) and 178 (+98%) deals, respectively. Swedish acquirers have maintained strong activity as their deals explain 50% of the Nordic market volume. Finland, Denmark, and Norway-based operators have 24%, 15%, and 11% market shares, respectively.  
M&A deal values where acquiror is domiciled in the Nordics (Zephyr, Bureau van Dijk)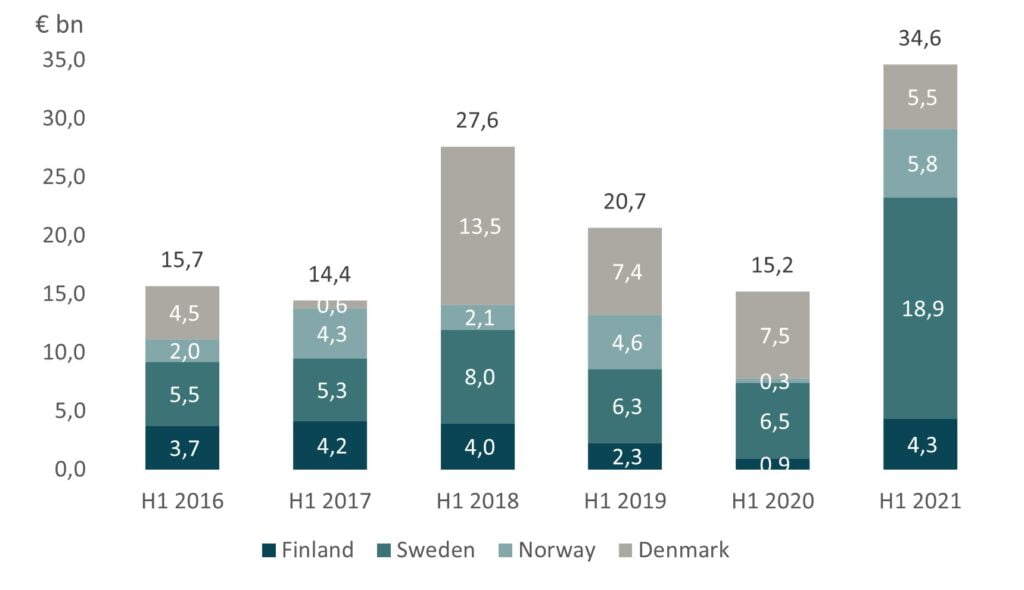 Transactions with Nordic acquirors reached a new value record as cumulative transaction value increased to €35 billion (+130%), €7 billion (+25%) above the previous peak in H1 2018. Reported deal values showed substantial fluctuations across the Nordics.  
Denmark's deal value was reduced by 1.9 billion (-26%). The largest value winner, relatively, was Norway, where the value increased from € 0.3 to 5.8 billion (+1593%). In absolute terms, Sweden was the biggest gainer with €18.9 billion in value (+€12.4 billion, +192%). Finnish acquirers increased value by 365% from €0.9 to €4.3 billion.  
In most Nordic acquisitions both the buy and sell sides were domiciled in the Nordics. 16 of the 30 largest deals had targets outside the Nordics. Of the 16 targets, nine were acquired by Swedish, four by Danish, and three by Norwegian companies.  
Top 3 acquisitions with targets outside Nordics 
The largest transaction with a target outside the Nordics was announced by the Danish logistics giant DSV Panalpina. DSV Panalpina acquired Agility's, a Kuwaiti logistics company, Global Integrated Logistics business in a deal valued at €4.0 billion. The deal constitutes 73% of Denmark's acquisition value in H1 2021. 
The second largest was by EQT Group as they announced the institutional buy out of Exeter Property Group in a deal valued at €1.6 billion. The company was renamed EQT Exeter and now controls client funds valued at more than €10 billion.  
The third-largest transaction was announced by Norges Bank Investment Management, Norway's oil fund, which manages investments valued at one trillion euros. Norges Bank acquired a 50% stake in two offshore wind farms from Ørsted, a Danish wind farm operator, in a deal valued at €1.4 billion.  
Onwards to H1 2022 
As the Nordic M&A scene is on track to break value records, and hopefully volume records soon, we will be back in the next quarter with our analysis of H2 activity. H2 had noteworthy activity as Finland saw its M&A history's second-largest acquisition as Wolt, a last-mile food delivery service, was acquired by the US-based DoorDash in a deal valued at €6 billion. The deal value is only behind Nokia's acquisition of Alcatel-Lucent in 2015 for €15 billion.  
Oskari Elojärvi
Analyst