The Finnish building service technology industry is following the path of other Nordic countries where major players gobble up smaller service providers. The highly fragmented market provides an opportunity for consolidators to acquire firms and expand service offerings and geographic reach. In addition, consolidators focus on gaining an edge through economies of scale, especially with raw material purchases, which have become ever more important with recent price hikes.
Overview of the Finnish building service technology market
The €6,4B building services technology market (composed of pipeline (€2,9B), electrification (€2,4B), air supply work (€1,1B)[1] is expected to continue generally favourable developments in the coming years and grow on par with GDP.[2]
The HVAC industry is comprised of roughly 4,000 companies, of which 5% generate more than €10M revenue.[3] The majority of companies operate in the sub €1M segment and provide local services only. During the last ten years, the number of HVAC companies has fallen slightly, a decrease of around 150 companies, while total industry revenues have increased by 40%. This is indicative of a maturing market, in which existing companies consolidate – a trend further confirmed by ongoing HVAC M&A activity, in which larger organizations have opted to buy smaller, regional firms.
Underlying trends: Accumulated repair deficit leading to pipeline renovations
The current age distribution of the housing stock in Southern Finland shows that a significant amount of the housing stock is approaching the critical age of approximately 50 years, when pipeline renovations must typically be carried out. Buildings, that have been built between 1960-1999 form a notable share of the current building stock, which during the next 15 to 25 years will need pipeline renovations and ensure a stable future demand for renovation contracting.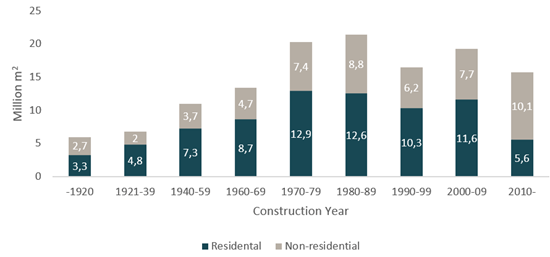 Figure 1: Finnish Building Stock by Construction Year[4]
According to VTT Technical Research Centre of Finland, the amount of pipeline renovations will further significantly increase (5.5% annually), exceeding 30 thousand apartments in total during the 2020s. For limited liability housing companies of buildings constructed in the 1970s, the two most popular planned renovation types during the next 3 to 10 years are related to pipeline renovations.[5]
Figure 2: Annual Amount of Pipeline Renovations in Finland[6]
Underlying trends: Air conditioning and electrification sectors seeing robust demand
The role of air conditioning and electrification work has become increasingly important due to the emphasis on energy efficiency in building service technology. The stricter regulations demand energy efficiency from current air supply units. Furthermore, due to an increasingly prosperous population the need for cooling in buildings increases as individuals demand more amenities.
The existing device base currently installed in buildings is becoming outdated, as it doesn't comply with current ecological regulations. On top of the regulatory and environmental aspects, there exists a strong financial rationale for building owners to modernize their existing air supply units. By improving the energy efficiency of the ventilation systems, building owners can achieve significant savings. The potential savings that the improved energy efficiency of buildings' heating and ventilation can provide to the building owners are significant, as 32% of energy consumption in Finland stems from cooling and heating of buildings.[7]
The market for companies providing air supply unit installation, maintenance and repair services is attractive. The current favorable trends contribute towards increase in the volume of new air supply unit installations, in turn increasing the device base that must be maintained and serviced in the future. In Finland the importance of energy efficiency has been recognized nationwide; Finland invests in new energy infrastructure the third most in Europe proportional to GDP.[8] Thus, the market for air ventilation related services is bound to grow with the help of tailwinds from regulatory pressures requiring more energy efficiency, a more prosperous nation demanding comforts, and savings associated with updating old air-supply systems.
Close-up on HVAC M&A activity
Four companies, Bravida, Caverion, Assemblin, and Instalco, have been very active in the Nordic M&A scene and control ~20% of the total market[9]. For example, Bravida has been an active consolidator with over 80 acquisitions in the HVAC space across the Nordics. Achieving growth through acquisitions has also been a strategy employed by medium-sized local firms, such as Quattro Mikenti Group (QMG; now part of Nimlas Group, part a portfolio company of Klar Partners), which bought Tornion Ilmastointitekniikka in 2021 and LVI-Trio in 2020, to add to over a dozen of their acquisitions over the past decade. The following figure shows a selected list of HVAC M&A deals in Finland since 2017.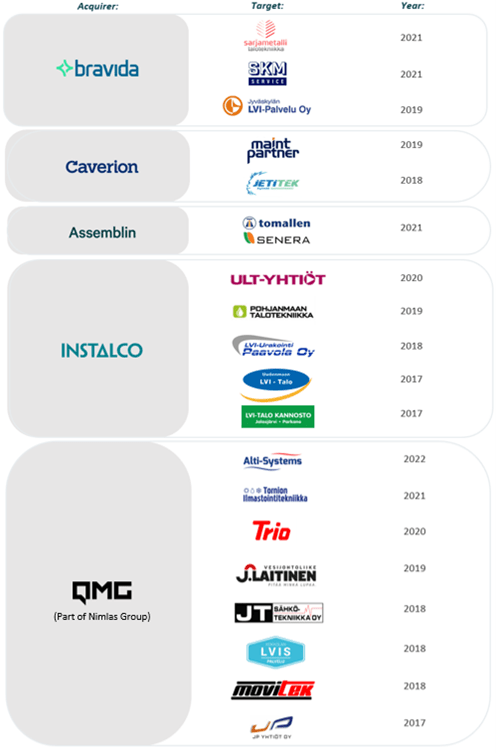 Figure 3: Nordic HVAC M&A Activity
The fragmentation of the market can be further illustrated graphically. The figure below shows the Nordic HVAC market split into three segments according to annual revenue. Although the figure depicts the Nordic market as a whole, the degree of fragmentation is similar when only examining Finland.
Figure 4: Nordic HVAC Market Fragmentation by Revenue[10]
Mikael Reijonen
Analyst
[1] LVI-TU, https://www.lvi-tu.fi/toimiala/lvi-asennus/suhdanteet-ja-tilastot/
[2] The Ministry of Finance, https://julkaisut.valtioneuvosto.fi/bitstream/handle/10024/162424/VM_2020_63.pdf?sequence=1&isAllowed=y
[3] LVI Tekniset Urakoitsijat, https://www.stul.fi/wp-content/uploads/2020/09/LVI-TU-STUL-NSS-Talotekniikan-suhdanteet-9-2020.pdf
[4] Confederation of Finnish Construction Industries RT, https://www.rakennusteollisuus.fi/contentassets/0c59228d46994117b2b8c276b15be939/chartoriginal.png
[5] Statistics Finland, http://www.stat.fi/tietotrendit/artikkelit/2019/korjausrakentamisen-arvo-on-nyt-suurin-1970-luvun-taloyhtioissa/
[6] Finnish Association of HPAC Technical Contractors: https://www.lvi-tu.fi/wp-content/uploads/2019/02/Putkiremonttien-kehitys-1980-2050.pdf
[7] Ibid.
[8] Finnish Association of Civil Engineers, https://www.ril.fi/fi/alan-kehitys-2/roti-2019
[9] Bravida, https://www.bravida.se/contentassets/29494e12d8414ae68f8c4f91782f246f/200304_bravo_cmd_final.pdf
[10] Bravida, https://www.bravida.se/contentassets/29494e12d8414ae68f8c4f91782f246f/200304_bravo_cmd_final.pdf