The digitalization and adoption of new technologies is rapidly changing the Finnish IT service market. Market players are expanding and diversifying their offering in search of new competitive advantages. The new value-adding activities include for example business-critical process outsourcing and digital design services, traditionally not included in IT service market. At the same time, the increasing competition across the industries has led companies to pursue improved scalability, flexibility and cost-efficiency, which has made businesses more dependent on IT infrastructure and managed services.
The Finnish IT services is a €5.9B market, set to grow at 4% annually (CAGR, Compound Annual Growth Rate) in 2019-2025. IT outsourcing services account for around a one third of the market, leading to a market size of €2B. IT outsourcing service market growth is estimated to surpass the growth of Finnish GDP – at an annual rate of 4.2%. Its fastest growing segment is web hosting services.
IT Services are a EUR 6 billion business in Finland, growing 4 % annually in 2019-2025
The total size of the IT service market in Finland was estimated at €5.9B in 2019.[1] It is a part of larger overall IT-market, also containing revenue from sale of IT equipment, estimated roughly at €12B.[2]  Traditionally, IT services are defined to include IT-consultation and implementation services, IT related outsourcing services (e.g., managed services, outsourcing of applications, web hosting, and infrastructure and network services), as well as other services related to hardware and software support.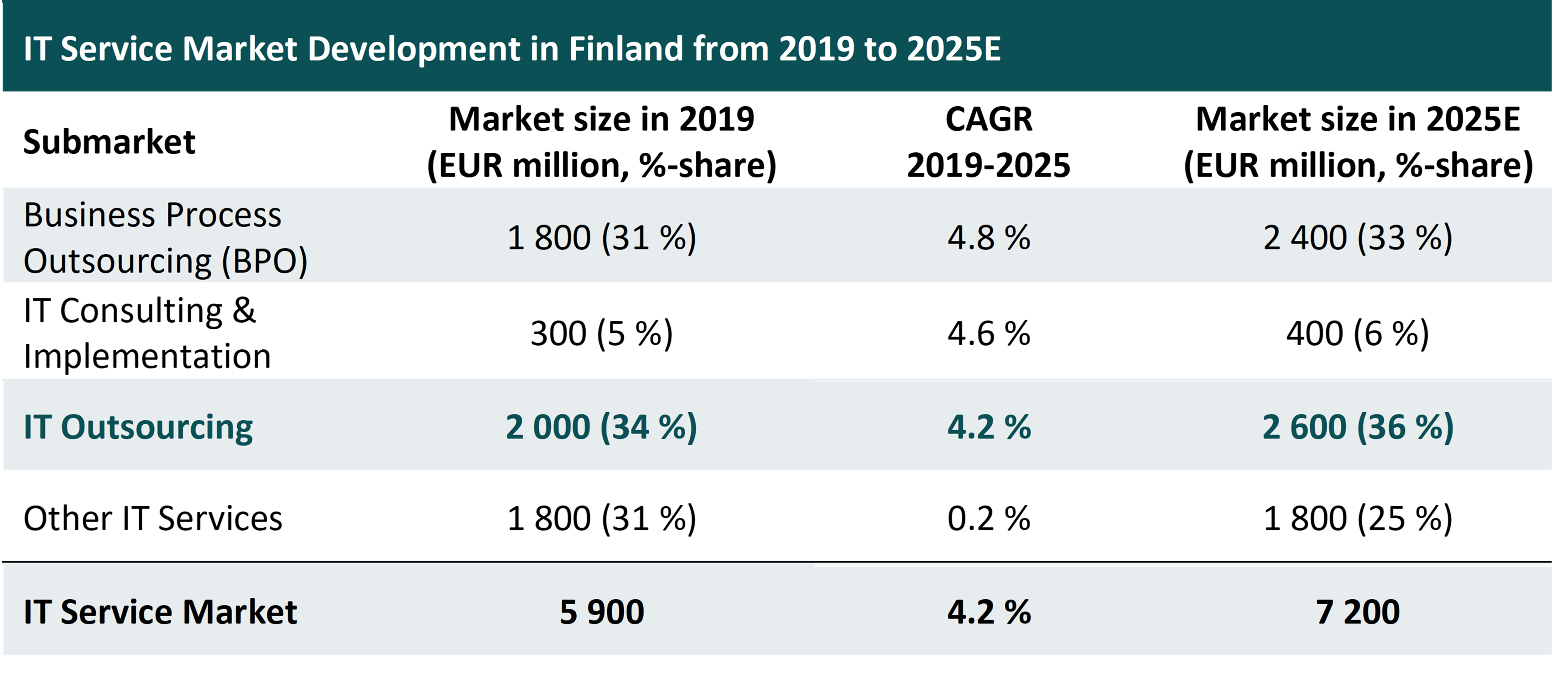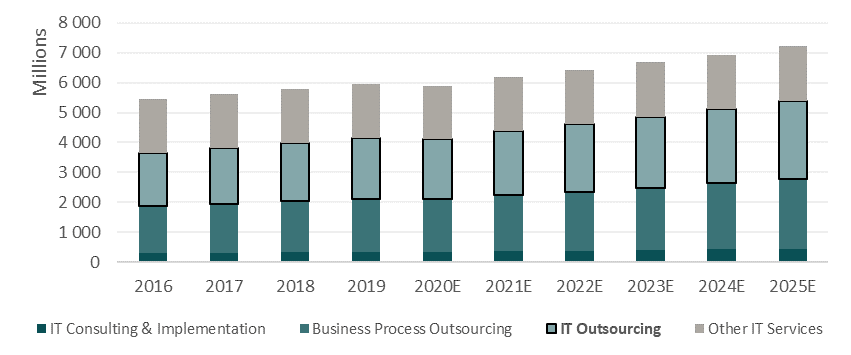 The traditional view of IT service market has been changing, as the digitalization and adoption of new information technologies have expanded the market's boundaries. Due to service expansions of market players, the IT service market is now catering activities that have been previously included to other than IT-related industries. The players have been continuously broadening and diversifying their offerings in search for new competitive advantages. New activities, traditionally not part of the IT Services category include for example business process outsourcing services (such as outsourcing of procurement and human resources, or supply chain management) and other digital design services (such as service design). However, these services have now become a significant part of the overall IT service market offering. The vague boundaries and constant digital service expansion make a precise estimation of the total market size challenging.
Despite the short-term global economic impact of covid-19 pandemic, the IT service market is expected to grow faster than GDP in the long-term. The market is estimated to grow on average 4.2% per year between 2019-2025E reaching €7.2B by the end of the year 2025. The market is primarily driven by the ongoing global trends of digital transformation and automation of business processes, that are changing the ways businesses operate. The emphasis has been put on new value-add digital services. Businesses have become more dependent on efficient and up-to-date IT services and infrastructure, which is increasing the importance of managed IT services across different industries. Especially, the emergence of cloud-based platforms has increased the demand towards real time executed data-driven managed services, creating greater value in forms of improved operational efficiency, discovery of new business opportunities and optimization of remote access.[3]
The market demand has also gradually shifted towards the creation of new digital business processes, as the businesses are more frequently utilizing IT services to improve their processes. Instead of solely delivering traditional back end and enterprise-system related managed services, the businesses seek innovative market players that can offer new ways to utilize IT systems. Such trend is estimated to contribute additional revenue to IT consultants, BPO (Business Process Outsourcing) service providers and tailored software developers alike.
Major development trends in IT service market
IT outsourcing is estimated to grow at 4% annually from current €2B level
The IT outsourcing is the largest segment of IT service market contributing around one third or €2.0B to IT service market in Finland. The market comprises external contracting of all IT-related services, including administration, application, and web hosting services, as well as other IT outsourcing services, such as infrastructure and network. The conservative estimate for market growth is around 4% per year on average until 2025 (CAGR 2019-2025), which means the market reaches €2.6B by 2025. There are however multiple fast-growth subsegments, focusing on new digital services such as application and cloud development, that are often seen as spearhead sectors driving the overall market growth. Based on Lingonberry Island Oy's study on application and cloud development market in Finland, these focused subsegments are estimated to have reached growth of up to 10-15% in 2019. Especially, among smaller companies the growth has been significant.[4] Therefore, companies operating among these subsegments are likely to beat the conservative 4% YoY rate in the upcoming years. The following table reflects the overall IT outsourcing market development in Finland.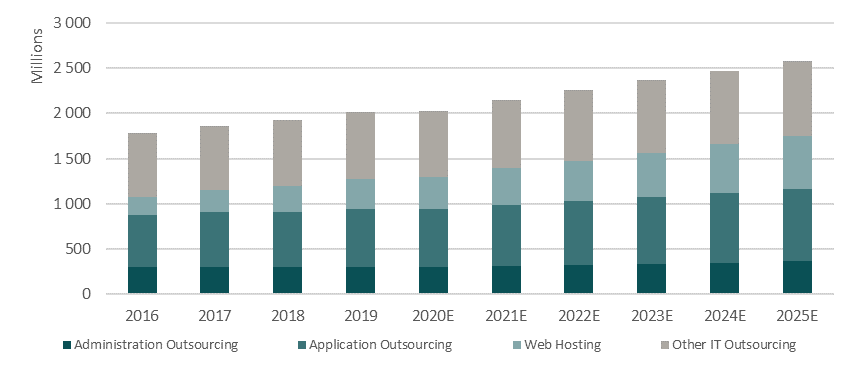 The application outsourcing consists of a broad range of external design, development and maintenance services focused on application development. The market segment excludes in-house development of own software and sales of these products. The submarket is estimated at €600m in Finland in 2019, growing at a 5% rate in the next five years reaching €800m by 2025.[5] Growth of application development in Finland is supported by the same trends affecting the IT software business market as a whole (see the detailed table below), primary demand trends emphasizing user centricity, cloud disruption, license business, and data and analytics.
Key trends within software services procurement [6]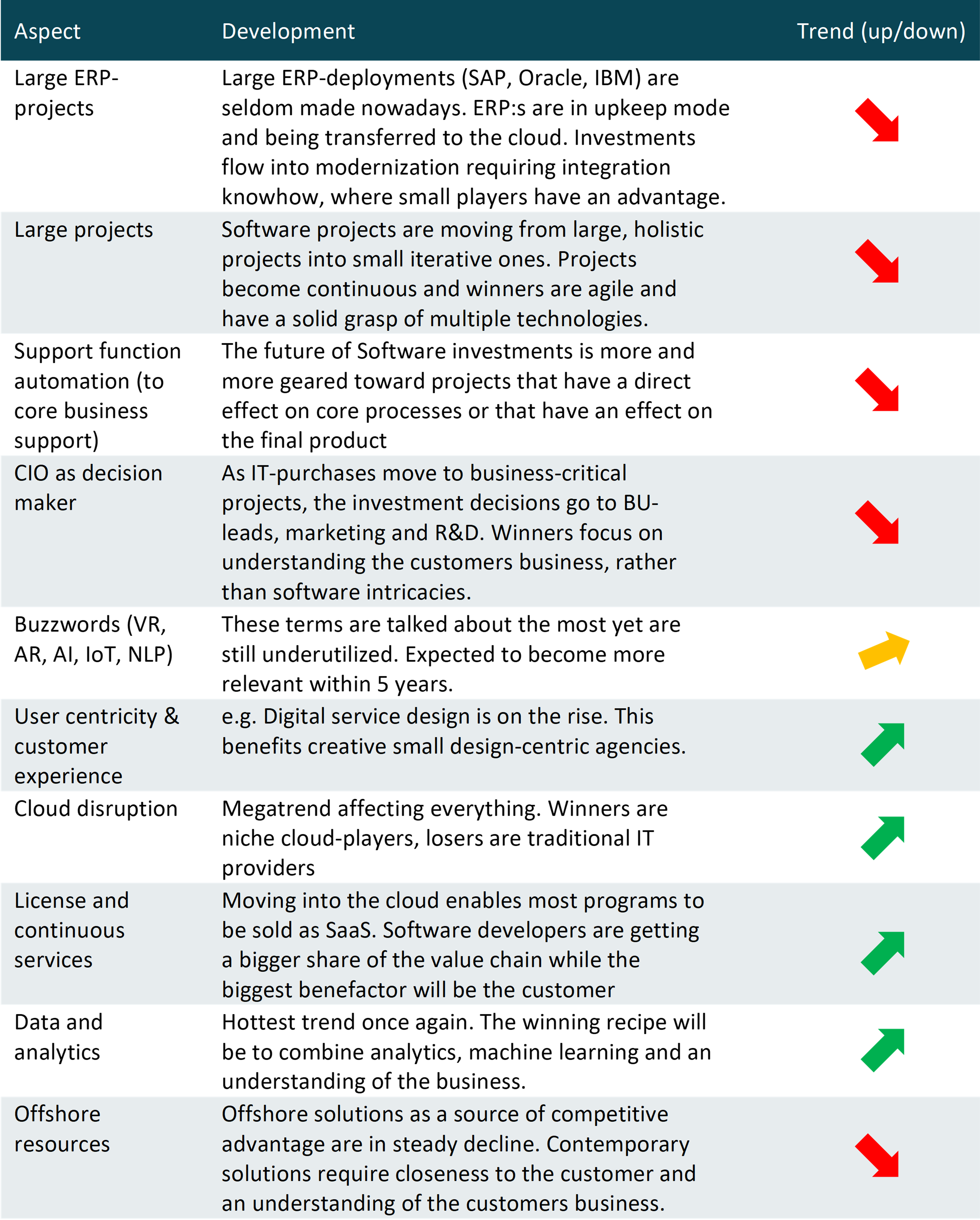 The IT administration outsourcing services (e.g., hardware supply, configuration, maintenance, and security and support) form a submarket of €300m. The market is estimated to experience stable growth at 2.8% CAGR in 2019-2025. The market benefits from continuous growth of IT software and hardware base in business, as well as general adoption of IT services as part of various business processes, globally driven by investments in digitalization. The emergence of e-commerce, the advancement of disruptive technologies such as Artificial Intelligence (AI) and blockchain, popularity of open-source applications and cloud-based systems, mobility and social media will each contribute positively to the demand of secure managed IT services. The increased level of adoption of integrated information systems and networks also increases businesses' general concerns on how cybersecurity is managed. The growing amount of cybersecurity related incidents and European-wide regulatory changes are expected to contribute positively to this development.
Other IT Outsourcing segment comprises managed services such as infrastructure and network outsourcing services.[7] These services together are estimated to form a business of €700m in Finland – being the largest submarket of IT services. Overall, the infrastructure outsourcing has high penetration level in all Nordic countries, as the businesses have opted for these services to pursue improved scalability, flexibility and lower IT costs, as well as emphasis on their core functions.[8] The market is expected to continue growing steadily in the upcoming years, driven by further advancement and utilization of cloud-based technologies alongside general technological expansion, which speeds up the frequency of system and hardware updates. The adoption of mobility solutions as well as cloud has led to modernization of infrastructure, which requires more efficient managed IT services.[9] The other IT outsourcing services are estimated to grow annually 1.9% on average in 2019-2025.
The outsourcing market is also driven by the blooming web hosting market (e.g., shared, dedicated, virtual private server and colocation hosting). The digital transformation – the rise of digitally connected systems and devices (e.g., smartphones and other portable devices) and shift from physical storage platforms towards advanced and efficient cloud platforms (private and hybrid clouds) – support the robust growth of the market in the upcoming years. Among the key market trends of web hosting are increasing importance of mobile marketing and e-commerce, supporting adoption of hosting services and creating multiple opportunities for providers of these services.[10]  Hence, the web hosting services in Finland are estimated to increase more than 10% per year on average between 2019-2025.
Aleksi Pulkkinen
Analyst
[1] IT Services – Finland. Statista.
[2] IDC Nordic IT Services Market.
[3] IT Services Market – Growth, Trends, Covid-19 impact, and Forecasts. Mordor Intelligence.
[4] Market survey on application and cloud development market in Finland, 2020. Lingonberry Island.
[5] IT Outsourcing – Finland. Statista.
[6] View by Nordic Growth. Adapted from Inderes company analyses.
[7] Managed Services Market Size, Share & Trends Analysis Report by Solution, By Managed Information Service (MIS), By Deployment, By Enterprise Size, By End Use, By Region, And Segment Forecasts. Grand View Research.
[8] Nordic IT Sourcing & Cloud Survey 2020. EY.
[9] Managed Infrastructure Services Market – Growth, Trends, Covid-19 Impact, and Forecasts. Mordor Intelligence.
[10] Web Hosting Services Market Size & Covid-19 Impact Analysis. Fortune Business Insights.